Foundation Repair, Crawl Space & Basement Contractor in Georgetown, IN
Foundation Problems
Don't Get Better With Time. They Get Better With TFS.
The stability of your entire house depends on the foundation. Settling soil, moisture problems, and simple wear and tear can wreak havoc, leading to problems with your foundation, crawl space, and basement. If you notice any worrying signs of trouble, don't wait to have them repaired. After all, foundation problems don't get better with time. They get better with TFS.
The Foundation Specialists team has been serving Georgetown residents since 1999. We'll inspect your foundation and provide expert guidance on how to proceed. Once we've performed the repair, you'll have renewed peace of mind, knowing your home is safe and secure.
To speak with our expert team, please call us at 844.468.4674 and request a free, no-obligation consultation for foundation, crawl space, or basement repair in Georgetown.
Request Your Inspection Today!
"*" indicates required fields
Foundation
Repair Solutions
Has your home developed some unusual quirks over the years? Cracked walls, sagging floors, and windows and doors that don't close properly aren't just annoying — they could also be symptoms of a serious underlying problem. Set your mind at ease with foundation repair from TFS. We provide comprehensive solutions to our Georgetown customers, including:
Our foundation contractor offers free repair estimates with no obligation to proceed, so call us at 844.468.4674 to request an inspection.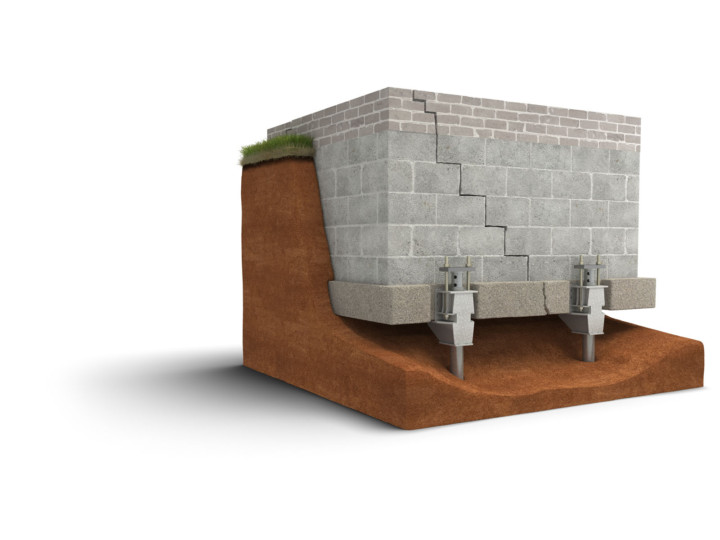 Concrete
Repair & Sealing
Concrete is one of the most widely used building materials, praised for its affordability and versatility. However, concrete can become damaged after years of heat, sunlight, and moisture exposure, especially if the slab isn't installed correctly. Ripping out and replacing concrete is expensive and time-consuming, but luckily, there are other options. TFS recommends concrete crack repair and concrete sealing for most situations. Here are the tools we use to complete the job:
For more information about concrete crack repair and sealing, contact The Foundation Specialists at 844.468.4674.
Basement
Waterproofing & Repair
Basements are notorious for being humid, damp, and musty. Even without a full-blown flood, the excessive moisture can cause mold, mildew, and wood rot to occur. Highly saturated soil pressing against the basement walls may even cause them to slowly bow, crack, or break over time. Fortunately, TFS can set things right with basement leak repair and prevention. The techniques we use include:
A dry, structurally sound basement is easier to achieve than you think! Call The Foundation Specialists at 844.468.4674 to learn more about our basement leak repair solutions.
You probably don't think twice about your crawl space, but this area hidden beneath your home could harbor mold, bacteria, insects, and vermin if you're not careful. Crawl space encapsulation is the key to eliminating problems and promoting a safe, healthy home environment. Wet crawl space repair from TFS combines multiple solutions to create the dry, sealed crawl space every homeowner wants. These include:
Don't delay waterproofing your crawl space! Call The Foundation Specialists right away for your no-obligation consultation.
Request a
Foundation Inspection
in Georgetown Today
Worrying about foundation cracks and crawl space damage doesn't do any good. It's also a waste of time to perform home repairs that only cover the symptoms rather than fixing the root of the problem. With help from The Foundation Specialists, you get expert advice, a quote for an affordable solution, and a team ready to perform the necessary repairs. Rest assured that we maintain open communication to inform you of our progress. We'll deliver such excellent customer service and outstanding results that you'll wonder why you put off foundation crack repair for so long!
To learn more about the services from TFS, please call 844.468.4674 or contact us online for a comprehensive foundation inspection in Georgetown, IN.
Additional Resources for Georgetown Homeowners