Foundation Repair, Crawl Space & Basement Contractor in Franklin, IN
Foundation Problems
Don't Get Better With Time. They Get Better With TFS.
Damage to the foundation of your Franklin home could drastically reduce its value, cause damage to other areas of your home, or even lead to serious safety concerns. If you have noticed doors that don't close, stuck windows, sagging floors, or other signs of foundation trouble, talk to The Foundation Specialists. Our team at TFS has been serving homeowners in Franklin, Indiana, including Canary Creek, Jefferson Meadows, Pleasant Acres, and beyond, for over 20 years. We are one of the leading foundation contractors in the Franklin area, and we offer innovative, high-quality foundation repairs, basement repairs, concrete repairs, and more. We will provide the most cost-effective, long-term solutions for your needs, and we will make sure you are completely satisfied with our work.
Foundation
Repair Solutions
Damaged foundations are not uncommon in the Franklin area, and the problem should be addressed as soon as it is noticed. Whether the damage is caused by erosion, moisture, frost cycles, faulty concrete, or poor installation, you should call our team at TFS for a professional assessment and expert repairs. We offer many foundation repair solutions in the Franklin area, including:
To learn more about our foundation piers, wall stabilization systems, and other foundation repair techniques for your Franklin home, call 844.468.4674.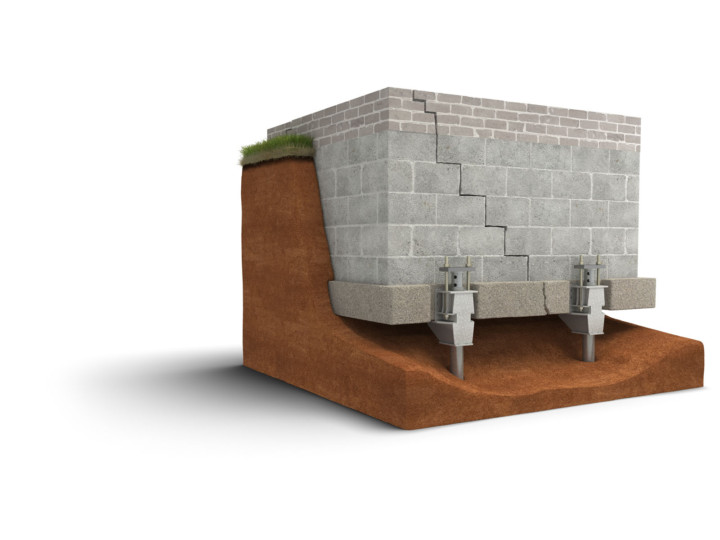 Concrete
Repair & Sealing
Cracked concrete not only looks bad, but it can allow water to enter and freeze, lifting the slab or causing further breaks. Whether you are filling cracks in a driveway, sealing a concrete floor, or need concrete crack repair services, you can count on our team at TFS. We offer a full line of concrete sealing and concrete crack repair solutions in Franklin, including:
Make your concrete look great and prevent cracks and spalling with our concrete repair services from TFS. Call 844.468.4674 to schedule an appointment in the Franklin area.
Basement
Waterproofing & Repair
For many Franklin homes, the basement is essential for housing and protecting appliances like HVAC systems and water heaters, as well as for extra storage or even living space. Any moisture problems, mold growth, cracks in the walls, or buckling walls could cause serious problems. At TFS, we can provide the basement repair solutions you need to keep your Franklin home safe and make your basement usable again. These include:
To request a quote for basement leak repair, wall stabilization, or sealing in the Franklin area, call 844.468.4674.
Do you need help waterproofing your crawl space? Whether you have a sealed crawl space or a vented crawl space in your home, moisture can be an issue. When you need professional wet crawl space repair services in the Franklin area, turn to our experts at TFS. We offer several services to repair your crawl space and keep it dry, including:
Wet crawl space repairs
Crawl space vapor barrier installations
Do you have a wet crawl space? Choose TFS for fast, professional repairs. Call 844.468.4674 or reach out online to schedule a consultation.
Request An Inspection
in Franklin Today
Do you need a reliable, long-lasting basement, crawl space, or foundation fix? Look no further than our team at The Foundation Specialists. We have over 20 years of foundation and concrete repair experience, and we offer free, no-obligation consultations, personalized service, custom proposals tailored to your needs, and great financing options to make the process as painless as possible. We also feature an annual maintenance program, our TFS CareClub, to keep your basement, crawl space, and foundation waterproofing and repair systems working as they should.
Give us a call at 844.468.4674 or contact us online to schedule your free, no-obligation consultation anywhere in Franklin, IN.