Foundation Repair, Crawl Space & Basement Contractor in Shepherdsville, KY
Foundation Problems
Don't Get Better With Time. They Get Better With TFS.
Every home's structural integrity depends on its foundation's stability. When your home's foundation is damaged, it can cause lead to significant problems throughout the house.
Most foundation problems have one thing in common: water. Expanding and contracting soil, excessive moisture, and poor drainage are some of the most common threats to a foundation, causing it to shift, crack, or settle unevenly. Left untreated, minor leaks and cracks become major problems that compromise your home's strength and value.
When you need foundation repair or waterproofing services for your Shepherdsville, KY-area home, The Foundation Specialists can help. There's no foundation problem our team can't handle!
Foundation
Repair Solutions
Homeowners often miss the early signs of foundation damage, which can include "spongy" wood issues, "saggy" floors, and doors and windows that don't close correctly. The longer you wait to address these issues, the more likely water damage, mold growth, and wood rot could occur.
Fortunately, TFS has all the solutions to your various foundation problems. Our industry-leading foundation repair services include:
No matter the foundation problem at your home, our technicians will deliver the fix you need, including foundation crack repair.
Experiencing foundation problems? TFS offers the best solutions! Contact us today at 844.468.4674 to schedule a no-obligation consultation.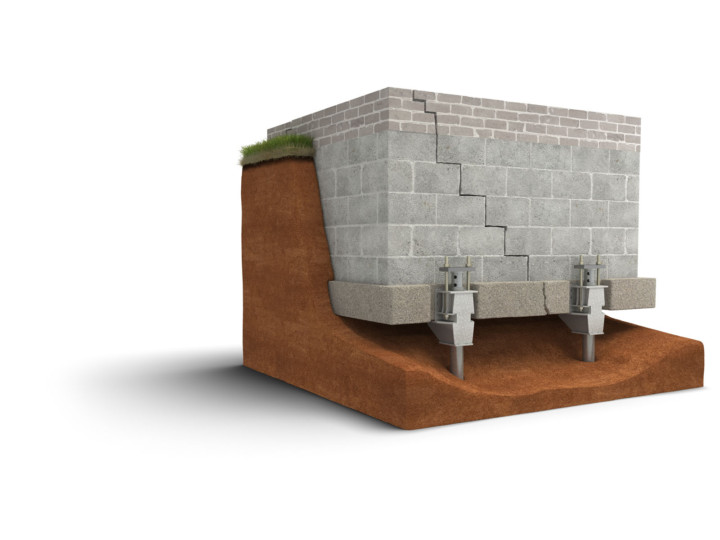 Concrete
Repair & Sealing
Do you have unsightly cracks in your home's walls, floors, concrete slab, or outdoor walkways? Have they been getting progressively worse? Concrete sealing, replacement, and repair services from TFS can save you time and money, and our concrete repair solutions promise lasting results.
We provide:
Concrete crack repair
Concrete crack sealer
Concrete driveway and garage floor sealing
Driveway cracks filling
Our concrete repair and sealing solutions are ideal for dealing with wear and tear from vehicles and weather, cracking and eroding cement, and raised blocks caused by tree roots.
When your home's experiencing cracked cement walls or driveway wear and tear, contact the TFS team to evaluate and repair these and any other type of concrete damage.
Basement
Waterproofing & Repair
Basements are naturally vulnerable to seepage, and even the smallest cracks and leaks can lead to moisture and structural problems. If you notice block and mortar cracks in your home's foundation, you might have a water intrusion issue or plumbing leak. Other signs of basement water intrusion include:
Bowed or tilted walls
Damp walls
A musty odor
Mold and mildew
Cracked brick, interior walls, or door frames
Sticking doors and windows
Some skilled DIYers can safely handle waterproofing the basement, but basement wall repairs are best left to professional foundation contractors, as they have the tools and industrial products necessary for solving the problem permanently.
Basement cracks and leaks can't fix themselves! Call 844.468.4674 to schedule waterproofing and repair services today.
Examining the rooms overhead is the quickest way to determine if you have a potential crawl space problem. Are the floors uneven or sagging? Are there cracks in the walls and windows and doors that stick? When you're in the room above, do you notice a musty odor coming from the crawl space?
Crawl space humidity has long been an issue for Kentucky homes. It causes moisture to condensate on multiple surfaces and sometimes leads to problems like mold growth, pest infestation, and rotted floor joists.
Our crawl space services include:
Keep your home's crawl space problems in check by calling TFS at 844.468.4674 to schedule services.
Request an Inspection
in Shepherdsville Today
With over 20 years of experience repairing foundations, repairing and sealing concrete, and waterproofing basements, TFS is one of the Shepherdsville, KY, area's most respected foundation contractors. We're fully equipped to solve all your home's foundation issues!
We provide:
Free, no-obligation consultations
Proposals tailored to your unique circumstances
Personalized services that help us build long-term relationships
The TFS CareClub annual maintenance program
Call The Foundation Specialists at 844.468.4674 to schedule a foundation inspection at your Shepherdsville, KY, home! You'll soon discover why our many happy customers choose us as their preferred foundation contractor.
Additional Resources for Shepherdsville Homeowners