Foundation Repair, Crawl Space & Basement Contractor in Louisville, KY
Foundation Problems
Don't Get Better With Time. They Get Better With TFS.
A home is only as stable as its foundation. Age, changing soil conditions, and moisture infiltration are a few of the conditions that can lead to foundation problems in your Louisville, KY, property. Do your home's basement walls have horizontal cracks or gaps where the walls meet the floor? Are the blocks shifting or bowing inward? These can signal foundation damage that, left unaddressed, can affect the structural integrity of your home.
The Foundation Specialists offers foundation and basement waterproofing and repair services that fix your home's foundation and provide long-lasting results. If your home's foundation, basement, or crawl space is exhibiting issues that affect its appearance, value, or safety, now's the time to give us a call. Our foundation and basement waterproofing and repair services are second to none! We also provide crawl space and concrete repair and sealing services guaranteed to keep your home stable and safe.
Foundation
Repair Solutions
When your home's foundation has been affected by ground shifting or water intrusion, it can pose serious risks to you and your property. Weakened foundations can eventually collapse and cause more extensive and expensive damage. If you notice "saggy" floors, doors, and windows that won't close properly, or "spongy" wood in your home, you need to have your foundation inspected. TFS offers a range of foundation repair services, including:
Our skilled and friendly technicians are equipped to deliver the remedies your home needs, including foundation crack repairs.
Look no further than The Foundation Specialists for the best foundation repair services in the greater Louisville, KY, area! Call us at 844.468.4674 to schedule a no-obligation consultation.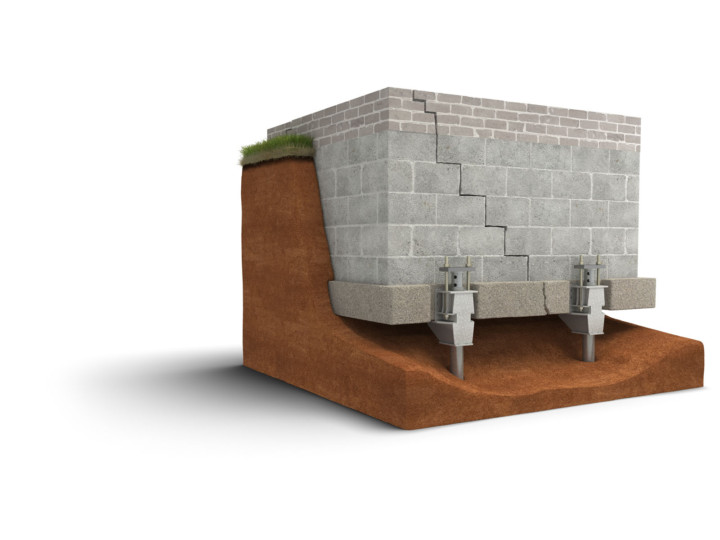 Concrete
Repair & Sealing
Over time, exposure to outdoor elements, ground movement, or improperly placed joints can cause concrete to crack. Once cracks appear, it's vital to get them sealed to prevent water intrusion from causing additional damage.
Concrete wall, floor, and slab cracks frequently signal unsafe issues like drainage problems and foundation damage. Our concrete sealing, replacement, and repair services deliver long-lasting results that look great and include:
Concrete driveway and garage floor sealing
Concrete crack repair and sealer
Driveway crack repair and filling
Fixes for raised blocks caused by tree roots
Solutions for cracking and eroding cement
Don't wait another minute to manage your Louisville, KY, home's cracking concrete. Contact the TFS team today to evaluate and repair any concrete damage.
Basement
Waterproofing & Repair
Located below ground level, basements are notorious for being damp, as unsealed concrete walls and floors absorb water from the soil outside. When dampness turns into a water intrusion issue, the waterproofing professionals at TFS can quickly assess the problem and make any necessary repairs before sealing the walls and floors.
Common water intrusion signs are:
Damp or bowing walls
Foundation and wall cracks
A strong, musty odor
Cracked brick, interior walls, or door frames
Mold and mildew
Sticking windows and doors
Our basement repair and waterproofing services include inspecting your basement and identifying the source of cracks so that we can fix the problem permanently.
Keep your Louisville, KY, home's basement dry with the help of The Foundation Specialists! Contact us online or at 844.468.4674 to schedule waterproofing and repair services.
Crawl space problems include everything from damaged insulation to rodent and insect infestation and water intrusion. It's essential to keep your home's crawl space sealed to ensure a healthy home environment.
Crawl space services from TFS include:
Waterproofing
Vapor barriers
Prevent minor crawl space issues from turning into major problems in your Louisville, KY, home. Call TFS at 844.468.4674 to schedule reliable crawl space services!
Request an Inspection
in Louisville Today
Getting an expert opinion about the integrity of your home's foundation helps prevent further structural damage and costly repair work. For more than 20 years, TFS has helped Louisville homeowners keep their foundations and home architecturally sound and their families safe.
We offer:
Free, no-obligation consultations.
Custom proposals.
Customized services designed to ensure long-term relationships.
The TFS CareClub annual maintenance program.
Don't wait for foundation cracks to turn into an emergency!
Contact The Foundation Specialists online or call 844.468.4674 to schedule a comprehensive foundation inspection and discover why so many happy customers in the Louisville area have chosen TFS as their preferred foundation contractor!