Foundation Repair, Crawl Space & Basement Contractor in Madison, AL
Foundation Problems
Don't Get Better With Time. They Get Better With TFS.
With the many creeks and rivers in surrounding areas, Madison homes can suffer the consequences of water incursion, including wet crawl spaces and basements as well as foundation damage. If you need any service from foundation repair to basement waterproofing or crawl space encapsulation, The Foundation Specialists are the foundation contractor to call.
Reach out to TFS at 844-468-4674 or contact us online to request your free, no-obligation consultation on foundation, crawl space, or basement services.
Foundation
Repair Solutions
Foundation issues are never pleasant to find out about, but the good news is The Foundation Specialists offers multiple solutions to address damage like foundation cracks. We are experts in foundation fixes, including:
Push foundation piers
Helical foundation piers
CarbonArmor wall stabilization
GeoLock wall anchors
PowerBrace foundation wall support
EverBrace™ wall restoration system
LintelLift permanent garage lintel stabilization
Call TFS at 844-468-4674 to schedule a free foundation repair consultation for your Madison home.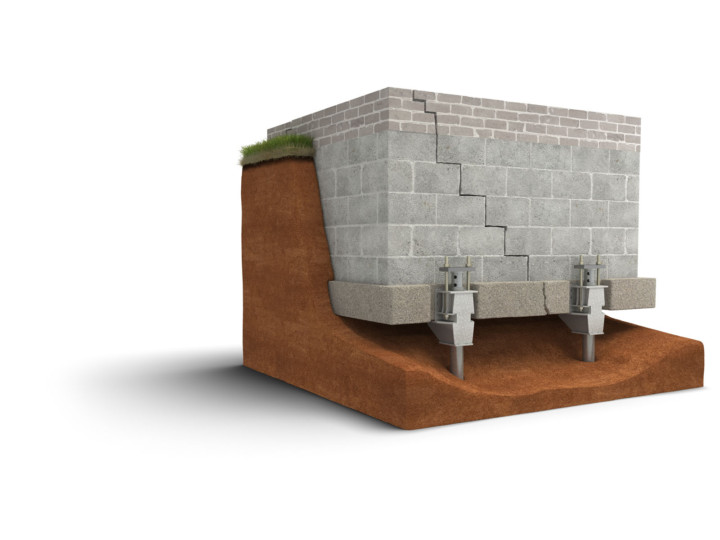 Concrete
Repair & Sealing
There are many cases in which foundation damage to Madison homes is limited enough that repairing and sealing the concrete is preferable to replacing it. The concrete crack repair and concrete sealing solutions we offer include:
PolyLEVEL polyurethane injection
SealantPro concrete crack sealer
NexusPro joint sealant
CompressionGuard
Find out if your home is a candidate for repair and sealing by calling us for your free assessment at 844-468-4674 or by contacting us online.
Basement
Waterproofing & Repair
If your Madison basement is unable to prevent excess moisture from infiltrating your home, you need basement leak repair. TFS makes it easy to keep your basement sealed and dry with these solutions:
Basement dehumidification
Basement pumps
Wall encapsulation
CarbonArmor carbon fiber strapping
GeoLock wall anchor system
PowerBrace foundation wall support
Not sure if your basement is properly protected against moisture? Call TFS at 844-468-4674 to schedule a consultation for basement repair and waterproofing in Madison.
Crawl spaces are typically dark, dirty, and highly prone to Madison, AL's consistent humidity. Since crawl spaces are less accessible than basements, it's easier to overlook mold, dust, and pests accumulating in the space. TFS can protect your home with a sealed crawl space through these crawl space repair solutions:
Floor supports
Crawl space pumps
Crawl space encapsulation
Dehumidifiers
LumberKote mold protection
Crawl space vapor barriers
TFS can assess your Madison crawl space and determine whether you need wet crawl space repair. Call 844-468-4674 for more information on repairing and waterproofing crawl spaces.
Request an Inspection
in Madison Today
House foundation repair, basement and crawl space repair, and waterproofing aren't jobs you should put off. The Foundation Specialists is Madison's premier foundation contractor, specializing in comprehensive services built on quality workmanship and customer care that saves you stress.
If you're ready to find out more about the service you can expect from TFS, give us a call at 844-468-4674 for a no-obligation consultation or request your consultation online.