Foundation Repair, Crawl Space & Basement Contractor in Kingston Springs, TN
Foundation Problems
Don't Get Better With Time. They Get Better With TFS.
A building's structural integrity depends on many factors, but nothing is more important than a strong foundation. If you notice problems with your concrete floors, crawl space, or basement walls, don't expect things to improve on their own. It's up to you to take action and hire a professional who can diagnose and fix the issue.
Turn to The Foundation Specialists for help! We have been serving Kingston Springs for over 20 years, providing foundation crack repair, concrete sealing, and crawl space waterproofing with excellent customer service. As the area's leading foundation contractor, we would be happy to inspect your home and offer our recommendations.
Are you concerned about the integrity of your foundation, crawl space, or basement walls? Contact TFS online or call 844.468.4674 to request a free inspection.
Request Your Inspection Today!
"*" indicates required fields
Foundation
Repair Solutions
Uneven floors. Cracked tiles. Splitting hardwood. These are just a few signs of foundation trouble. Ignoring these problems or attempting to cover them up could jeopardize your home's structural integrity. Don't let this happen when an affordable repair is possible! With over two decades of experience helping thousands of customers every year, the TFS team is confident we can perform the foundation repair you need. Here are the industry-leading methods we employ:
The Foundation Specialists can fix your foundation for good. Call us today at 844.468.4674 to learn more about our solutions.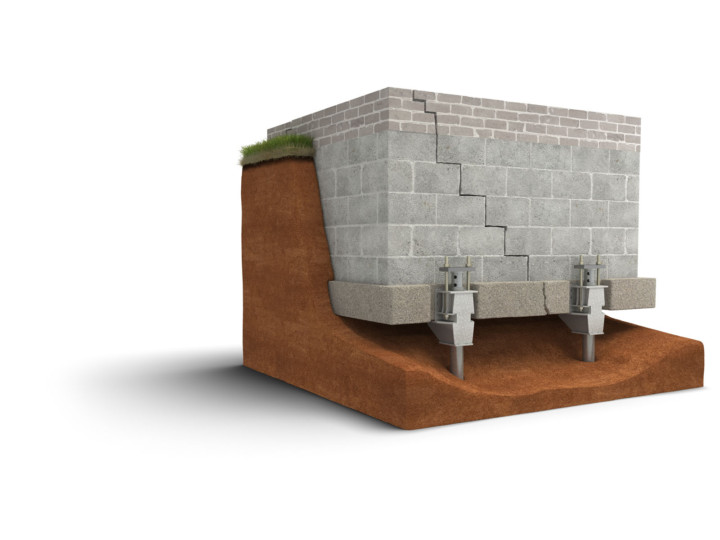 Concrete
Repair & Sealing
Are the concrete surfaces in and around your home looking cracked and degraded? This isn't just an eyesore — it could also be a safety or structural concern. Rather than taking the time and spending the money to replace your concrete, TFS recommends concrete crack repair and sealing. Our solutions include:
Whether you need help filling cracks in the driveway, leveling a sidewalk slab, or applying a garage floor sealer, TFS can get the job done. Contact us today to request a quote.
Basement
Waterproofing & Repair
Basements are the most flood-prone part of your home. Even high humidity in the basement can cause mold, mildew, and wood rot. Bowing or cracked basement walls are also common in properties with poor drainage and oversaturated soil. Whether you use your basement as a storage space or living area, you want to keep it dry. Basement leak repair and prevention from The Foundation Specialists are just what you need. We offer:
Do away with that musty basement odor once and for all with basement waterproofing in Kingston Springs. Call us at 844.468.4674 today to schedule an inspection.
You may not give your crawl space much thought, but this critical structural element serves as a buffer between your house and the damp soil beneath it. Without a crawl space vapor barrier, high humidity could set in, harboring mold, bacteria, insects, and vermin. Poor air quality in the crawl space could even affect the health of your family living above. Choose TFS to seal and dehumidify your wet crawl space using these solutions:
To learn more about what crawl space repair involves, please contact us for a free consultation.
Request a
Foundation Inspection
in Kingston Springs
Your home is probably your biggest investment, so protect it with proven solutions from The Foundation Specialists. Our foundation repair experience dates back to 1999. Since then, we have earned a reputation for prompt, professional service and top-quality workmanship. Upfront pricing and flexible financing options also promote a convenient, affordable experience. With our help, you'll restore your home's safety and structural integrity, enjoy peace of mind, and improve your quality of life.
To speak with a foundation and concrete repair expert in Kingston Springs, please call us at 844.468.4674 or contact us online.
Additional Resources for Kingston Springs Homeowners