Foundation Repair, Crawl Space & Basement Contractor in Clarksville, IN
Foundation Problems
Don't Get Better With Time. They Get Better With TFS.
Every homeowner in Clarksville wants peace of mind that their families and assets are safe and well cared for. So what do you do if you notice sagging floors, musty odors, or a big crack in your basement wall? Don't stress — call The Foundation Specialists in Clarksville, IN, to take a look.
When you choose us to fix your crawl space, basement, or foundation, you can expect a fair, upfront price and a professional crew to perform the repair. Our goal is to help you spend more time enjoying your home and less time repairing it!
Contact TFS online or call 844.468.4674 to request your free, no-obligation consultation for foundation, crawl space, or basement repair in Clarksville.
Foundation
Repair Solutions
A heaving, shifting, or settling foundation is never a good thing. These issues can be caused by poor drainage, flooding, soil erosion, ground movement, and more. Consult a foundation contractor sooner rather than later if you suspect a problem. TFS can put your mind at ease with effective solutions that make your home stronger than the day it was built! Here are the
foundation repair
solutions we offer customers in Clarksville:
Foundation repair estimates from The Foundation Specialists are free and come with no obligation. Call us at 844.468.4674!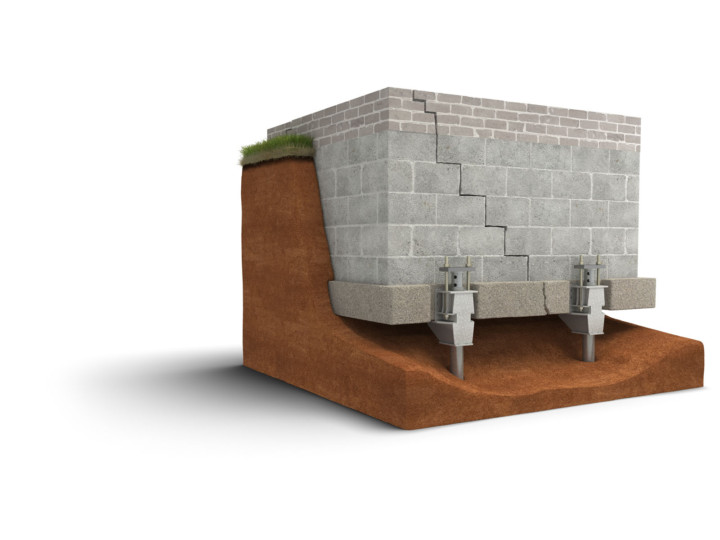 Concrete
Repair & Sealing
Concrete is an affordable, versatile building material, but it can become damaged after years of exposure to the elements. Premature failure can also occur if the concrete is installed poorly by inexperienced contractors. Unfortunately, ripping out and replacing concrete is an expensive and time-consuming endeavor. That's why The Foundation Specialists recommends
concrete crack repair and concrete sealing
in most cases. We use the following tools to get the job done:
For more information about filling concrete cracks and sealing concrete floors, please
contact TFS
.
Basement
Waterproofing & Repair
Basements are vulnerable to high humidity, flooding, and general dampness. The resulting mold, mildew, wood rot, and musty odors can affect indoor air quality and even threaten your home's structural integrity. But that's not all. Depending on the moisture level in the surrounding soil and how your home was built, the basement walls could now be bowing, cracking, or breaking right before your eyes. Luckily, The Foundation Specialists can provide the fix you need. Our
basement leak repair and prevention solutions
include:
We want you to enjoy peace of mind, knowing your basement is dry and structurally sound. Call us at 844.468.4674 today for a free inspection.
The crawl space may be hidden from sight, but it still affects the rest of your home. Without proper crawl space waterproofing, moisture could accumulate and create an environment where mold, bacteria, insects, and vermin thrive. On the other hand, a dry, sealed crawl space promotes a safe and healthy home environment.
Crawl space repair
involves multiple measures to protect the space from water intrusion and prevent mold growth if moisture makes its way inside. Here are the unique solutions available from TFS:
Don't put off crawl space repair any longer.
Contact TFS
for your no-obligation consultation today.
Request an Inspection
in Clarksville Today
Are you worried about your cracked foundation or wet crawl space? You deserve a contractor that will spell out the problem, offer an affordable solution, and perform the necessary repairs the first time around. With The Foundation Specialists, you get all this and much more! Our professional crew will communicate with you every step of the way, so you can rest easy knowing your home is in good hands. You'll have such a remarkable experience working with us that you'll wonder why you put off foundation repair until now!
For renewed confidence in your home's safety and structural integrity, please contact us at 844.468.4674 to request your comprehensive foundation inspection in Clarksville, IN.